Friday, September 30, 2005
just 3 more to go!
hey!
this 2 came in an email
"Everybody has talent, it's just a matter of moving around until you've discovered what it is."
George Lucas
"Everyone experiences tough times, it is a measure of your determination and dedication how you deal with them and how you can come through them."
Lakshmi Mittal
[= jia you kaeZ! it's only promos right! haha. anyway physics and gp over liao, don't care how you performed for those papers, focus on the next 3 subjects now!
the end's coming real soon! good luck 75! (:
-felishitty
Labels: food-for-thought
Wednesday, September 28, 2005
grandpa japan
Labels: random
a message from heaven
"oh my god! i think i just twisted my hip...aRGH!"
When such things happen. And you shout omg, deity Zhen hears you.
Here's what the deity has to say.

What Should you Do if you Suffer an Injury?

Whether an injury is acute or chronic, there is never a good reason to try to "work through" the pain of an injury. When you have pain from a particular movement or activity, STOP! Continuing the activity only causes further harm.
Some injuries require prompt medical attention, while others can be self-treated. Here's what you need to know about both types:

When to Seek Medical Treatment
You should call a health professional if:
The injury causes severe pain, swelling, or numbness

You can't tolerate any weight on the area

The pain or dull ache of an old injury is accompanied by increased swelling or joint abnormality or instability.

When and How to Treat at Home
If you don't have any of the above symptoms, it's probably safe to treat the injury at home—at least at first. If pain or other symptoms worsen, it's best to check with your health care provider. Use the RICE method to relieve pain and inflammation and speed healing. Follow these four steps immediately after injury and continue for at least 48 hours:
R

est

. Reduce regular exercise or activities of daily living as needed. If you cannot put weight on an ankle or knee, crutches may help.


I

ce. Apply an ice pack to the injured area for 20 minutes at a time, four to eight times a day. To avoid cold injury and frostbite, do not apply the ice for more than 20 minutes. (Note: Do not use heat immediately after an injury. This tends to increase internal bleeding or swelling.)


C

ompression.

Compression of the injured area may help reduce swelling. Compression can be achieved with elastic wraps, special boots, air casts, and splints.


E

levation.

If possible, keep the injured ankle, knee, elbow, or wrist elevated on a pillow, above the level of the heart, to help decrease swelling.
another message from heaven,
proudly brought to you by Deity Zhen.
Labels: random
Promoting the Post-Promos Kegan-Bren Exercise Programme! (KEBEP)
this is one of a series of promotional notices for Kebep..exclusive to 05s75.. =P WHY MUST EXERCISE (in view of the tag board's heated debate)
Exercise is important for all age groups, particularly for the older adult. These resources will help you figure out how and why you should be exercising and how it will improve your life.

It's Never to Late to Start Exercising
No matter how old you are, exercise can improve your quality of life and you don't have to spend a lot of time doing it to see and feel improvements. Like everyone else, seniors need to engage in cardio, strength training and flexibility exercises to stay healthy and maintain as much strength and functionality as possible.


BUTTOCKS

There are three muscles that make-up your buttocks: gluteus maximus, gluteus medius, and gluteus minimus. The gluteus maximus is the biggest and most noticeable of the three. The medius and minimus aren't as noticeable--both are located around your ilium, the large bony part of the pelvis. Together these three muscles help you move your thigh out to the side of your body (abduction), as well as rotate and extend your leg behind you. A strong buttocks helps in most all explosive/power activities, such as football, basketball, and hiking.


Instructions:

Get down on all fours (back straight, resting on knees and palms).
Raise one leg (push up and back) several inches off the floor until your hamstring is parallel to the floor, with leg bent at a 90 degree angle. Your heel should be facing the ceiling.
Hold for a second while flexing your buttocks.
Slowly lower your leg back to the mat.
Switch to the other leg and repeat.


Don'ts:

Don't let your leg raise further than your hamstring being parallel to the floor.
Don't just let your leg drop to the starting position, lower it in a slow, controlled manner.


` bren
Labels: random
Tuesday, September 27, 2005
hairy ear!!
hairy ear!! y-linked trait!

just to let you all take a look at how the y-linked trait, hairy ear, looks like! for enrichment purposes! interesting huh!! haha. miss soh will be so proud of me. go do my own "research" haha. okaee take care everyone. promos wil be over soon!! ard a week's time!!! =)

*awyong
Labels: random
Monday, September 26, 2005
bored..
just feeling really bored so.. just blog la. -.-
haha no la..
wanted to say
jia you 75!
our class so zai confirm can one la. only me will pull down the class average or something. =X yeahh we all jia you kaes. [= then after promos we play like mad! two weeks before we wake up from this nightmare! (actually is less than 2 la =P)
*feL
Labels: random
Saturday, September 24, 2005
zoo
i am so sick of studying that im here to blog again =p
anw rmb earlier on in the year we kept on saying we should go to the zoo for outing or sth?? ok let's do it after promos or during the hols!! some of our seniors just went dere and according to emmeline's blog, it was alot of fun!! soo let's go to the zoo sometime sooon ok?? i haven been there for years!!
and after promos must plan our chalet/stayover during the hols!!
anw everyone go read the senior's class blog! the entries by herbert are damn funny. go and read!
"we're going to the zoo, zoo, zoo.
how abt you, you you?
you can come too, too, too
we're going to the zoo, zoo, zoo!"
*super bored awyong
Labels: event planning
Tuesday, September 20, 2005
class outing at east coast after promos!
hello! some of us were thinking of having a full day class outing at east coast on 7th october, friday. since our last paper bio is on thursday. so what do you all think?
we can have like full day class outing, so can play alot of things! like cycling, rollerblading, frisbee. or soccer also. like train ourselves for festival of sports?? hahaha. if u all wld rather sentosa also can la. ard the same right. just that sentosa need entrance fee abit the waste money. den after full day class outing den at night den can have class dinner? ya just some suggestions.
what say you?
*awyong
Labels: event planning
Saturday, September 17, 2005
World's Favorite Raisin.
Because Sun-Maid is a grower-owned cooperative,our growers have a direct interest in producing the finest, premium-quality raisins in the world.The growing and harvesting of Sun-Maid raisins is a painstaking, year-round effort and one of
the most labor intensive in agriculture.


Vineyard tending and raisin harvesting are still accomplished almost entirely by hand, much the same way it was done a century ago. Raisins are made by drying freshly picked grapes. About 95 percent of Sun-Maid's raisins are produced from Thompson Seedless grapes.

This thin-skinned grape is sweet, tasty and makes the most succulent and delicious raisin available today. Throughout the year, our growers carefully tend their vineyards. Beginning in the spring, the vines are regularly irrigated, a process which continues throughout the summer.


During late August, when the grapes have attained their optimum sweetness, farmworkers carefully hand-pick the grape bunches and arrange them on rows of clean paper trays next to the vines. The grapes dry naturally in the sun for two to three weeks. They are placed in wooden bins and transported to Sun-Maid's 130 acre processing plant located in Kingsburg, California.

1 Pound of Raisins = 4 1/2 Pounds of Fresh Grapes!

After harvesting, the raisins are then collected and trucked to the receiving yard at Sun-Maid's massive Kingsburg plant. The facility can store more than 300 million pounds (or 150,000 tons) of natural condition raisins. Upon delivery, the raisins are thoroughly inspected. These inspections are only the start of a long series of tests and inspections ranging from laboratory analysis to high-tech scanning by laser beams.
Each step in the process is designed to produce the highest quality product - one worthy of the Sun-Maid brand.
Labels: random
Tuesday, September 13, 2005
the musician-wannabe.
Labels: photos
the fighter.
Labels: photos
the watchers.
Labels: photos
not bad.
Labels: photos
the shooter. and the loudest.
Labels: photos
hohos (:
before and after, done beautifully by yahting (:
she just sent it to me, uploaded the pics she sent me too! click on the photo, shd be able to see. got time then upload to the class album. hahas!
bbq rocked! [=
WHOAAA pink =D
*feL
Labels: photos
Friday, September 09, 2005
Pls be reminded that:
Skills tested:
C1 & D1
Day:
Monday
Date:
19 Sept (Wk 2!)
Duration:
1hr 20mins
Topics tested:
Mechanics
Hee, at least we can take comfort that we aren't the 1st batch taking the SPA. Plenty of time to poke ur nose arnd and find out the qns! For those who succeeded, please have the generosity and warm-heartedness to share with those who happen to forget to ask! On behalf of others (and myself), thnx!
*beams* your thoughtful physics rep
Labels: announcements
class tee!
HI!
okay! sorry if i made too much noise about the class tee this morning, just a little disappointed BUT..
THANKS KEGAN AND YAHTING (and everyone who has played a part in a way or another; that's like the whole class since we all voted :D) FOR PUTTING IN MUCH EFFORT INTO THE TEE!
[= yayyyy. MAF tmrw! mass dance in class tee! guys be more enthu in mass dance can?! tmrw will be fun! dont forget me okay! i'll be outside AUDI come loooook for meeee! [=
yay, no orange again!
*feL
Labels: random
Thursday, September 08, 2005
Snapshots from BBQ =)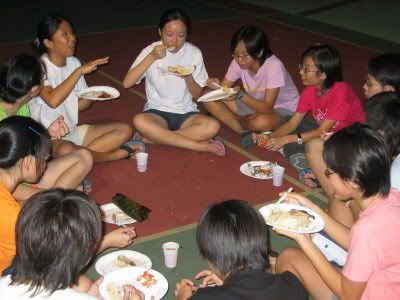 Huili entertaining the girls

Smile! =)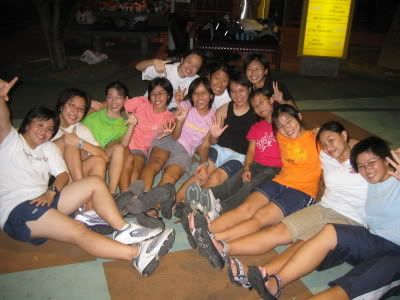 The girls and their legs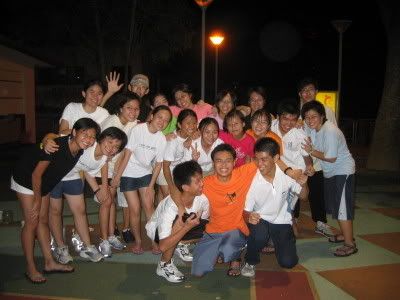 Big smiles! All but jon, tzeyi, sheldon, bren, clem and swin

na9ek
Labels: photos
Tuesday, September 06, 2005
bbq rocked~!
heyyys! the bbq rocked! :) had a lot of fun! thanks 75 =D=D esp. to those who bbq-ed the food and huili&kailing for buying so much stuffs + organising the whole thingy!


boo! back to reality; the past-year promo papers are posted on IVLE. hahaha. please try to save paper! =P it's a lot a lot. boo. i ended up printing 2 sided, 2 pages on one page for physics and biology, after deciding that chem was too thick a set. =P wahah. save ink also.

yeps! jia you! can't wait for after promos! (:

enjoy MAF! oh! must support INTERACT STALL! it's a game stall, called

SHOOTING STARS

! (: use water-gun to extinguish the sparkler! projectile motion~revise your physics! $1 per game, prizes to be won! can play against other players, or against your own group of friends! go go go! [= okay, and support the OAC

and

COUNCIL

stall too! (: must go council stall pei karin. hoho. then of course CHEER for the performers in our class, and LAUGH during WUSHU performance! =D okay enough of promoting! ALL GO PLEASE! and wear our NEW CLASS TEE!




*feL
Labels: outing
Sunday, September 04, 2005
hi. click and click to enlarge.
Labels: photos
Saturday, September 03, 2005
BBQ!
SCROLL DOWN FOR BBQ DETAILS!
heyyOs!!
hope you guys are really looking forward to the BBQ! must turn up okay!
then the guys you all must help the girls hohs! last time JTS only got sam there doing the bbq-ing.. hahas =P
bleahs. i cannot go la, very sad.. got tuition that evening, can't pon. don't think my mom will allow also. =X
someone please take photos ok!! take lots and lots and lots!!! =D
enjoy!!
then jiayou for promos! (((:
*feL
Labels: event planning
VERY IMPORTANT STUFF-- BBQ
Details are as follow
Monday 5/9
5 - 10 plus at Huili's house (Toh Yi)
Meet 4.45 pm at SHELL petrol kiosk busstop
, which is one stop after KAP
You can take 171, 66, 961, 67, 170, 852, 157, 174 from school
Other buses to reach there include 184, 77, 75, 61, 970, 985


People who are going:
Kegan, Ying tang, Justine, Emily, Huiyi, Yah ting, Ruo Wei, Jiaying, Mei xuan, Huiling, Awyong, Hui li, Kailing, Karin and Yao Zhen
People who arent sure:

Clement, Sam, Tzeyi, Minyi, Ming swin, Sheldon, Jonathan, WeeloonG, Junhong and Brendan
(please try to convince them to go and as u can see, they are mostly guys)
People not going:
Fel (boo...why???)
List of volunteers
Sam- Order food
Huiyi- Jellies, 1 roll of aluminum foil
Yahting- Jellies, choc cornflakes
Awyong- Fruits
Ruo wei- Non-gasy drinks
Minyi- Non-gasy drinks
Jiaying- Syrup, 1 butter brush, 1 box of firestarters
Justine- Coke, at least 20 cups
Meixuan- Ribena, 1 butter brush, 1 roll of aluminum foil, 1 packet of satay sticks
Kegan- Chips, 2 trash bags
Huiling- Chips, 1 packet of serviettes
Ying teng- 1 packet of paper plates, poker cards
Emily- At least 20 cups, 2 ice boxes
Everyone- Poker cards and lotsa fun!
*the rest of the things will be prepared by Huili n Kailing
*please remember to bring what you volunteered to bring! thanks a million
thats about it all....see ya there! don't forget to mug hard!
Labels: event planning
random random
hello everyone! yes very happy that the blog is working again =)

anw, was just reading through our grandseniors' blog last evening. ok call me too free or nosey or perhaps it's just i dont wanna study =p. and den i was jus wondering how the feeling will be like after spending two years with the class and then graduating.. like u know when you've graduated, den u look back at the two years spent in hc, spent in 75.. i tink it wld be a damn good yet sad feeling.

im suddenly saying this cos i really think that time flies. to think we just stepped into the sch as j1s, and now we've already spent 8 months together and then we're gonna be j2s already.. looking back, just wanna say that i love 75 alot.. love the class for who we are =) and i'm glad i was posted to this class =) though the scandals are getting on my nerves. yes and i tink some others agree with me on this too =) anyhow, i'm sure we'll spend an excellent two years in jc together! amidst all the tutorials and the mugging and the exams, we have our exciting class outings, bdae celebrations and simply just singing/talking rubbish in class (or during free periods!). err crap i sound like im already graduating haha. but anw, really wanna thank each and everyone for you for being in this class. and my apologies if i had, through one way or another over the last 8 months, gotten onto ur nerves or pissed you off. certainly hope i have brought more smiles and laughter into your life than frowns!

oh anw, promos coming. so everyone please take care and drink alot of water and dont fall sick!! it's very bad to fall sick during exam times so everyone please take care! rmb to study hard but dont get too stressed out either! we'll make it through this together =)

continue to be the ever fantastic 75 =)

*awyong
Labels: random
Friday, September 02, 2005
BBQ
hello everyone!!! well...this is not the details of the BBQ lar...just a reminder for u all to check the blog for updates and the list of things u all have to bring! (too tired to blog them out now...it is a long list)
see ya...and hopefully more people can make it!!
~kailing* tatty bear hugs u
Labels: event planning
what's wrongg!!
ehh izzit my comp or does everyone have the same problem as me?? i cant see all the recent blog posts!!! =(
*awyong
Labels: random
Thursday, September 01, 2005
prelims!
HEYS! dunnoe if the seniors will be reading this (actually probably not, cos they might be all mugging), but
JIA YOU FOR PRELIMS!!
*feL
Labels: random