Saturday, July 29, 2006
photos!
GTG 1-- guys treat girls (vitasoy)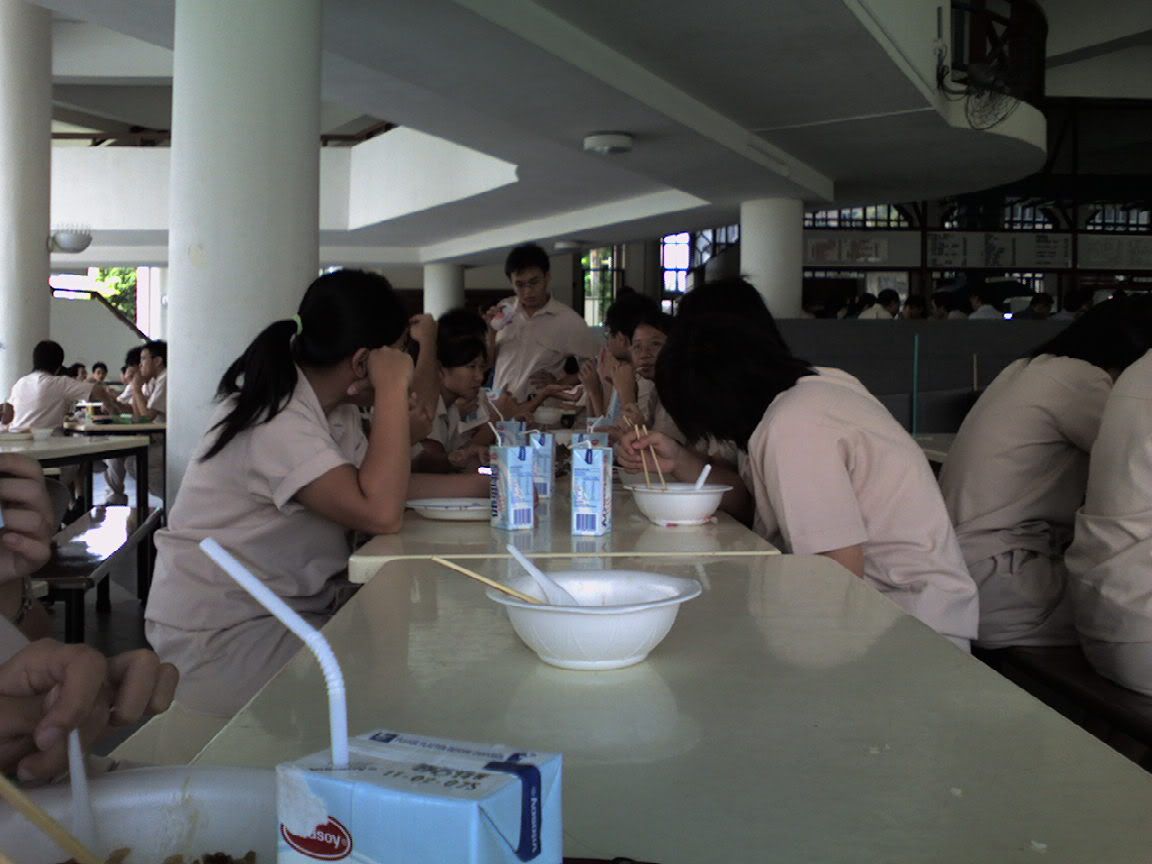 GTG 2 -- girls treat guys (milo)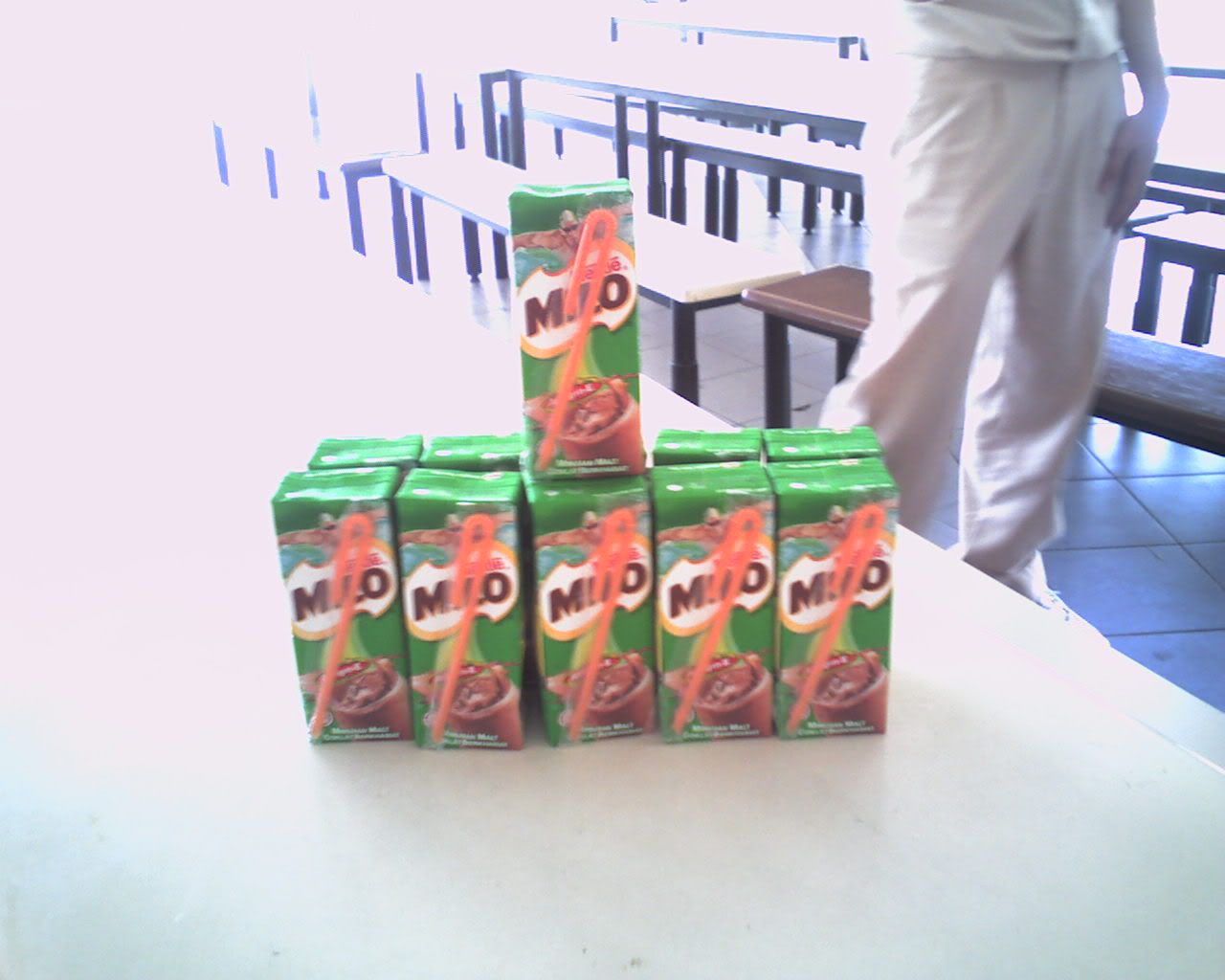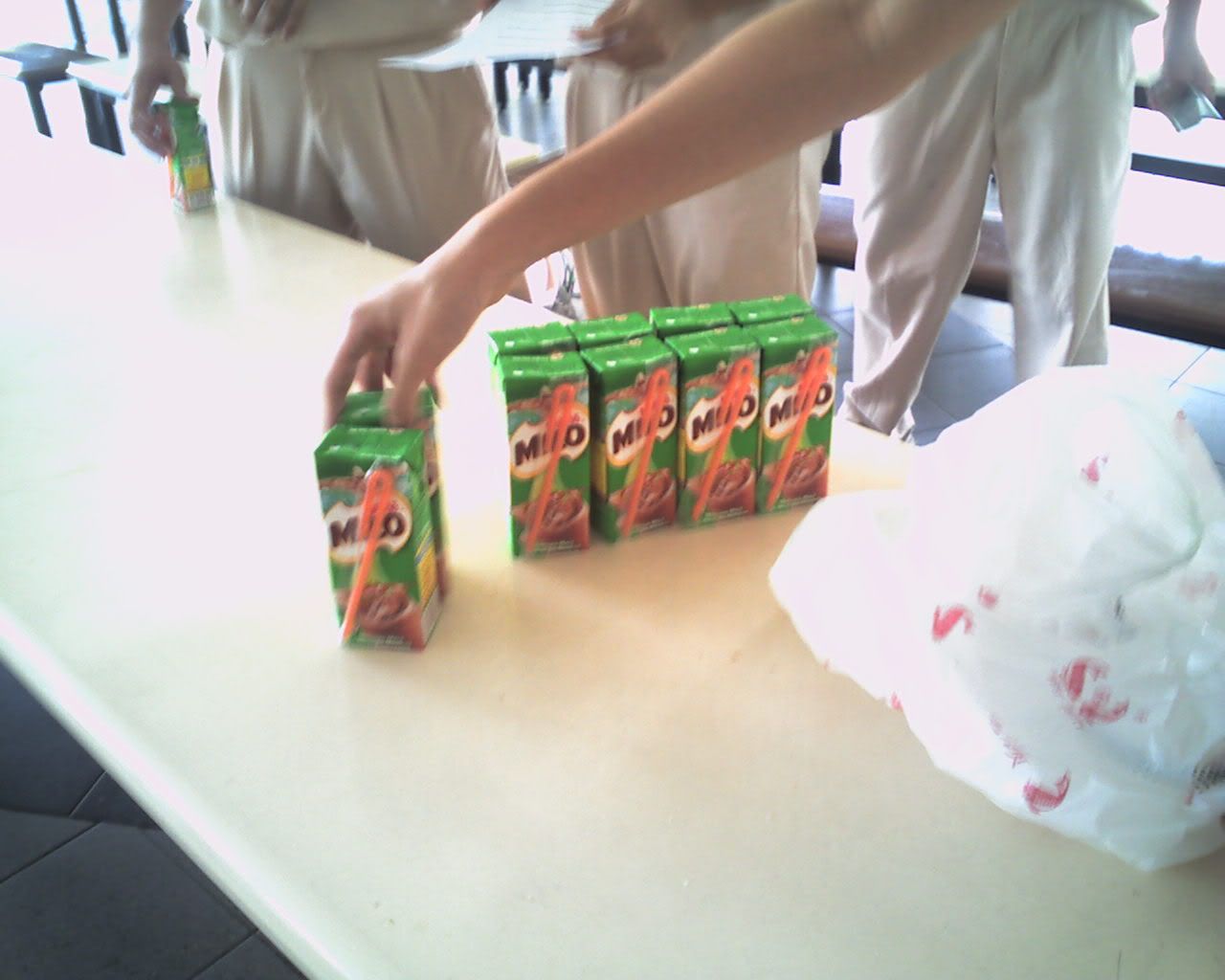 Friday, July 28, 2006
random day
hey...
"sing national day songs" day next tuesday in prep for our beloved country's birthday...
bring mp3s of the songs and lyrics if you have..
enjoy!
*kailing
Labels: random day
Prom
TeStiN hOw dIffIcuLt iT izz 2 tYpee lyk sUm aCt cUte ppLs
Ew.
Anyway it's been a long time since i blogged! Here or otherwise.
So, just to update, prom ordering's settled after some convoluted arrangement with 7E agreeing and withdrawing last minute and 68 to the rescue thanks to jaey. So we are now sharing table no. 16 with 68 and our two other tables are 17 and 25. For the actual spatial arrangement check out the prom board.
16, 17, 25.
Those who are more familiar with the 68 pplz might wanna volunteer to sit with them on tht day itself.
Undoubtedly thankful for the enthusiastic response makin us possibly by far the class with the highest turn out. Nevertheless, to each his own.
Also, on behalf of the guys, thank you to the girls for the brown drinks.
Lastly, calling all who wish to unwind before charging ahead towards prelims, fel and I are intending a kbox outing on the 8th after celebrations (apparently there's some inter fac musical competition). Yeps, will just decide on tht day.
Happy weekend and enjoy the seminar scholars!
:[
Labels: announcements
Friday, July 21, 2006
IMPORTANT
Please remember to bring your cheques for prom on Monday.
Address it to: Hwa Chong Students' Council
Amount payable: Eighty-five dollars only $85.00//=
Please also write your Name, CT and Contact number on the back of the cheque.
Thank you!
Labels: announcements
Wednesday, July 19, 2006
some secret stuff
helo...apparently got some career fair going on for tertiary students; called confluence 2006
Koped from the webbie:
Hi to all,
This August a collaborative project known as Confluence 2006 will be happening in Singapore. This whole day event will be offering
tertiary students
a
corporate career fair
as well as an opportunity to participate in industry-specific discussion forums. There will also be the address and dialogue session with
Minister of Defense, Mr. Teo Chee Hean
. With that, I encourage you to attend this meaningful occasion. Confluence 2006 aims to bring together Singaporean students from the UK, United States, and Singapore in a meeting of minds and passions. This year's event carries the theme 'Singapore – The Next 40 Years', and provides all of us a chance for intellectual discourse in matters of national interests, including government policy, industrial, and socio-economical developments. The highlight of this event will be an interactive dialogue session between the audience and a panel of eminent Singaporeans from various sectors, chaired by Minister Teo. This is a great opportunity, especially for overseas-educated students, to contribute new perspectives and break new ground in the shaping of Singapore's future. Confluence 2006 also provides a solid platform for networking among students and leading professional organizations. Representatives from various sectors will be present in an all-day career fair to offer budding talents useful job information. These networking sessions serve to enhance participants' exposure and knowledge with students and professionals alike.
Please visit
www.confluence-sg.org
to register
haha its free anyway; those still deciding on scholarships/career may wanna go c...
-swin
Labels: announcements
Tuesday, July 18, 2006
movie date!
who is for pirates of the caribbean next tue??
and hmm.. random thingy.. we must stay in contact after a levels and all that k?? like those in singapore can go out on wkends, those overseas and in the same country can meet up, den we can fly here and there to meet people (when we got the money and time).. okay???
oh and.. when do you all want GTG??
*kailing
Labels: event planning
Wednesday, July 12, 2006
harlowx!
hahah hellox. just received my belated prez from u guys.. hahah paiseh i dunno how else to go abt thanking.. so hope u all will read this entry kkx? =)
awyong, emily, yaozhen, huiling, clement, huili, junhong, weeloon, mingswin, jonathan, tzeyi(?), fel, jaey, meixuan, minyi, sam, huiyi, ruowei and kailing.
hahahx thanx a lot((:
*yahting.
Labels: birthday
Monday, July 10, 2006
photos for soccer stayover
heyyooo. click
HERE
for random silly photos during the stayover.. *yawns* damn tired now but cant sleep cos have to bring my bro to some class. zzZz.
lol and we were A-B-normal during physics today >.< bleah.
ok enough crap.. enjoy.
Labels: photos
Sunday, July 09, 2006
KISS (Keep It Simple Stupid)
One of the most memorable case studies on Japanese management was the case of the empty soap box, which happened in one of Japan's biggest cosmetics companies. The company received a complaint that a customer had bought a soap box that was empty. Immediately the authorities isolated the problem to the assembly line, which transported all the packaged boxes of soap to the delivery department. For some reason, one soap box went through the assembly line empty. Management asked its engineers to solve the problem. Post-haste, the engineers worked hard to devise an X-ray machine with high-resolution monitors manned by two people to watch all the soap boxes that passed through the line to make sure they were not empty. No doubt, they worked hard and they worked fast but they spent whoopee amount to do so.But when a rank-and-file employee in a small company was posed with the same problem, did not get into complications of X-rays, etc but instead came out with another solution. He bought a strong industrial electric fan and pointed it at the assembly line. He switched the fan on, and as each soap box passed the fan, it simply blew the empty boxes out of the line. Moral of the story: KISS (Keep It Simple, Stupid) i.e. Always look for simple solutions. Devise the simplest possible solution that solves the problem.
When NASA began the launch of astronauts into space, they found out that the pens wouldn't work at zero gravity (Ink won't flow down to the writing surface). In order to solve this problem, it took them one decade and $12 million. They developed a pen that worked at zero gravity, upside down, underwater, in practically any surface including crystal and in a temperature range from below freezing to over 300 degrees C. And what did Russians do?? The Russians used a Pencil! So, learn to focus on solutions not on problems, "If you look at what you do not have in life, you don't have anything," ... "If you look at what you have in life, and you have everything."
Labels: food-for-thought
Friday, July 07, 2006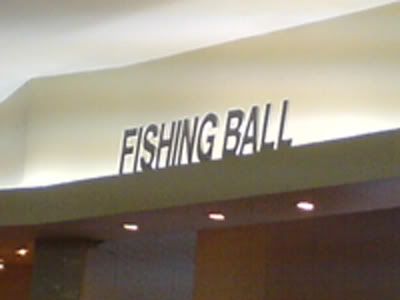 taken at a food court... comment...
Labels: photos
Enchante
4th December 2006 (Monday),
we'll be trooping down to
The Ritz Calton (Grand Ballroom)
by
7.30pm
. Good luck for finding the clothes for this occasion! But for now, we have to order tickets (
$85 per person
) in
tables of 10
first. Ordering starts on
24 July
(and ends on

4 August

).
And since it's a first come first serve thingy, to ensure that we have side by side tables , it'll be good to be early...
So... Yeah... Do think about it. Will pass around the form some time later.
Labels: announcements
lastest updates
details for sleepover n movie marathon:
meeting place: CCK mrt station control
time:
5pm
schedule: 5.00-5.45: buy stuff from lot one, things include stuff for breakfast (egg mayo sandwiches), milk, juice, drinks, chips n fruits to munch on and dinner (cup noodles or any alternative takeaways).. and to rent any other movies
5.45-6.00: prepare for marathon
6.00-11 plus: hopefully can get 3 movies done, so those who need to go home can do so
11 plus-2.00: more movies/ light nap/ chat/ play cards (decide on that day?) AND prepare breakfast
2.00
-4.30: soccer match (including extra time) [yups, match starts at 2 instead.. sorry didnt take note until jon commented!]
4.30-6.30: sleep,wash up, eat breakfast
6.30- ...: go sch
things to bring for those staying over: toothbrush, comb, hair stuff, towel, facial foam, uniform (plus collarpin), shoes n socks, sch stuff, playing cards, and wadeva extra stuff you need and also things u bring to sch like $$$
A.o.B: other people joining in please drop a note to either fel or me.. thanks.
have a great wkend!
Labels: announcements, event planning
stayover updates
okie.. got the responses for the stayover liao..
people staying over:
brendan, huili, mingswin, jon, fel, sam and me
poeple joining for movie marathon:
awyong, karin, huiling, yahting, kegan and huiyi
people who didnt respond: junhong, weeloon and ying teng
for those who cant go, if you have any last minute changes, please inform us and you are gladly welcomed to join us!!! (:
erm, for those who are going, the rough details are that we will probably start the whole thing in the evening ard 6 plus 7?? not sure having dinner together anot...
more details will be smsed to you
lastest by sat nite... !!!
ermm.. movies we are watching are probably
white chicks, bridget jones, cars and scary movie 4
, so those who are coming, please tell either fel or me if you got the dvd/vcd k? if not we will have to rent n pay money lor...
for those who are staying over, here are some of
things you might want to consider bringing
:
sch uniform, socks n shoes, comb, towel, facial foam, toothbrush, contacts, sch stuff for mon, gel/ hairtie or wadeva u need for ur hair, money, handphone.... blah blah blah... and
lotsa fun and energy
!
Labels: announcements, event planning
Wednesday, July 05, 2006
7-5-2006
Labels: birthday, class day, photos
Sunday, July 02, 2006
soccer!
okayokay.. blocks are ending.. hang in there people!
okie.. some updates for class stuff:
1. tue: dunno u all wanna go out tgt all something? see on that day lor.. haha..
2. wed: class day cum july babies celebration! turn up in the canteen during break thanks!
3. sunday: wc finals!! (please please not italy- france).. haha.. fel's condo is available!! whee!! all those who wanna come please tell her or me.. yups.. haha.. probably will have a movie marathon before that!! so it is kinda a fullswing nite!! *nope.. no one is ponning sch on mon*.. haha.. erm.. yar.. those who cant stay over can still watch some movies tgt first? haven hav this kinda class stuff for some time yar? hmm... yups.. haha.. quite exciting yeah? haha.. haven reallie hav mass sleepover b4 a sch day since last yr O lvls results release day? haha.. okie.. tell us ur attendance (will pass down list)... so we can prepare for BREAKFAST.. haha.. okieokie...
jia you for last paper!
*kailing (:
Labels: event planning