Monday, October 16, 2006
a story of ~05S75 ~
a smiley place..

where school goes on like every other day..

& sometimes along with stacks of bio too..

but it's still a nice place =)

even when we are down =( or sometimes stoney..

or in deep thoughts over lunch~ haha..

all fun times..whee!

laughing together~

doing wacky stuff (lol)..haha

totally engrossed~

celebrating bdaes together..

yup.. its a nice place indeed =) haha.. thx all for these 2 wonderful years of my life~ jiayous everyone! let your dreams soar high up into the sky but always do rmb this wondeful place k? haha~yea rawk on...
random pics frm sam =) haha..
Sunday, October 15, 2006
hey!
some random photos.. jiayou.. study hard!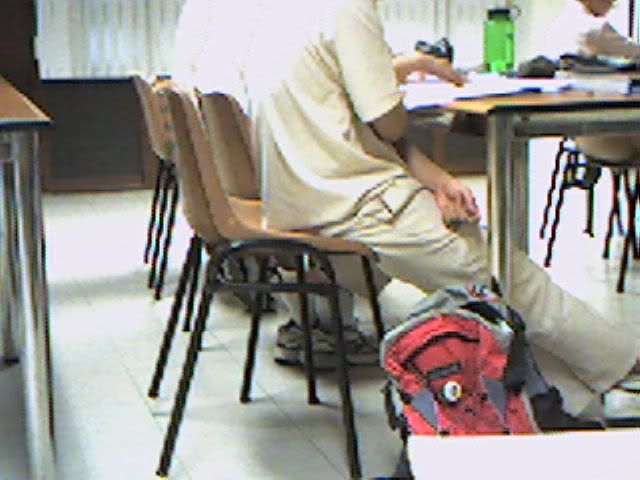 GUESS WHO? haha..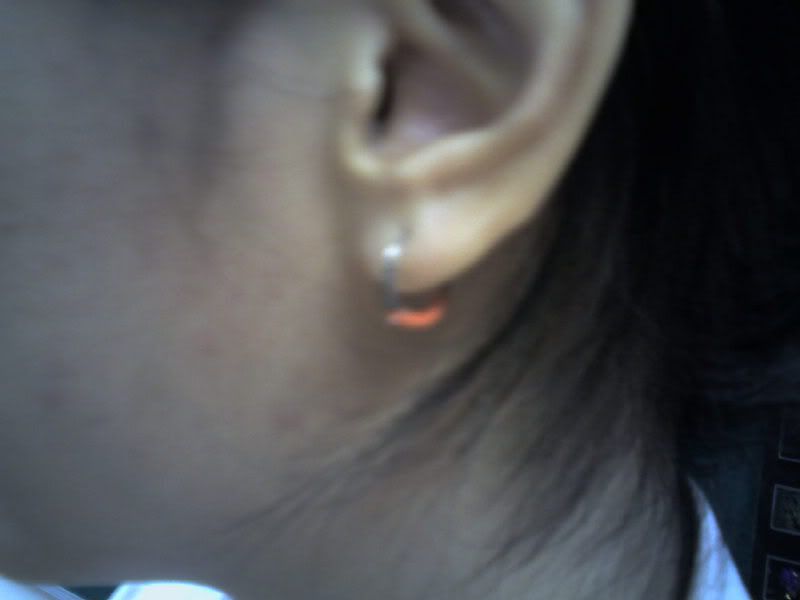 and.. WHO?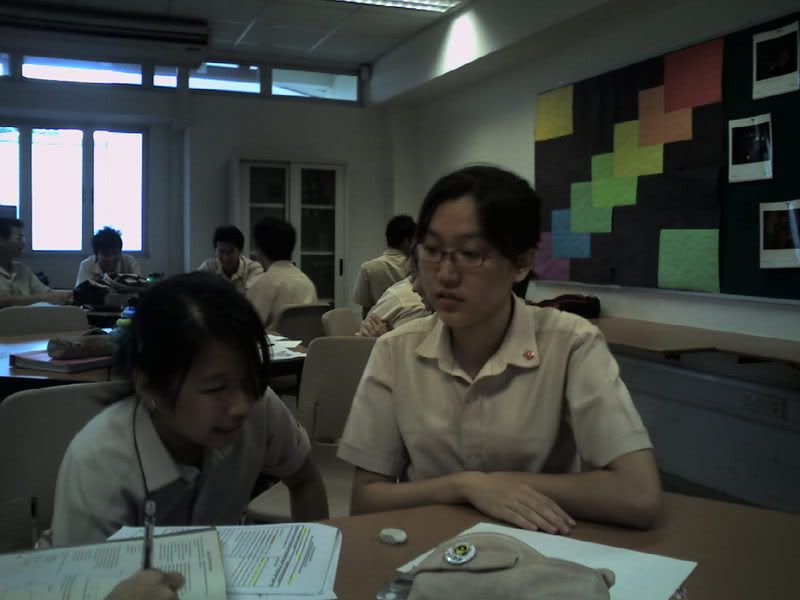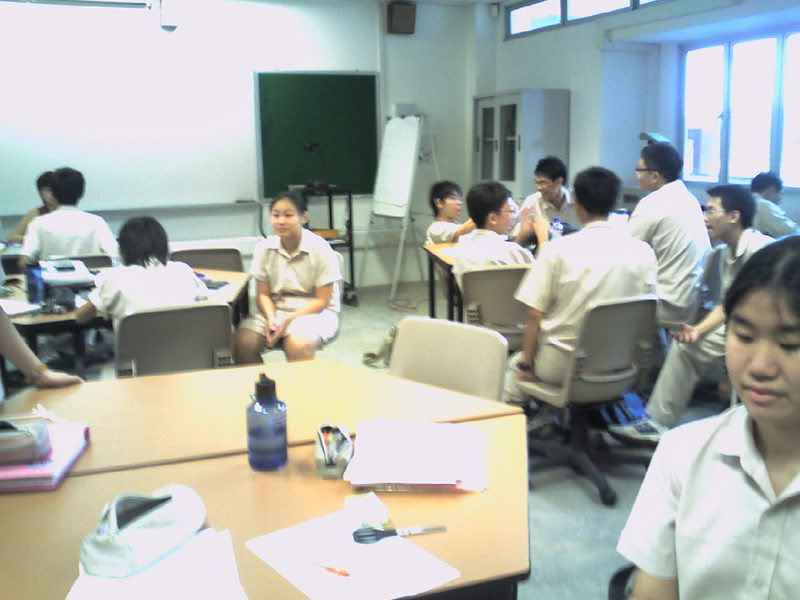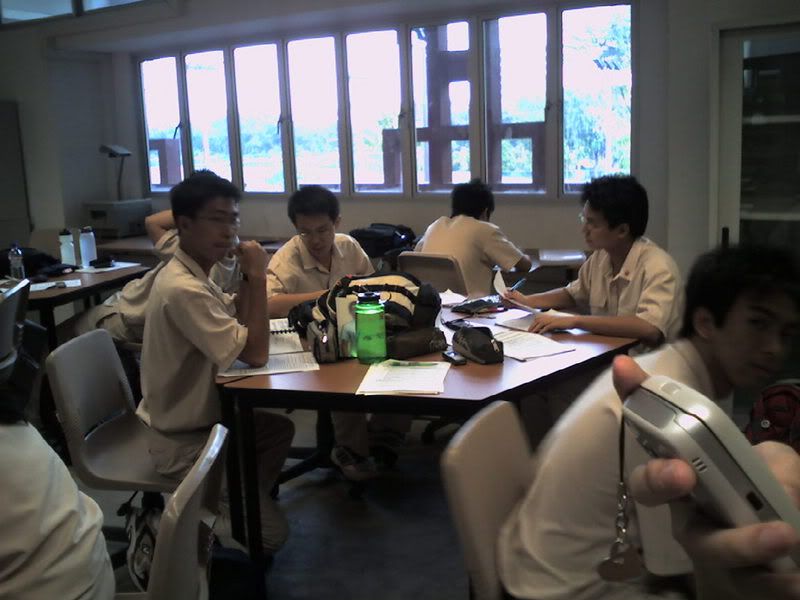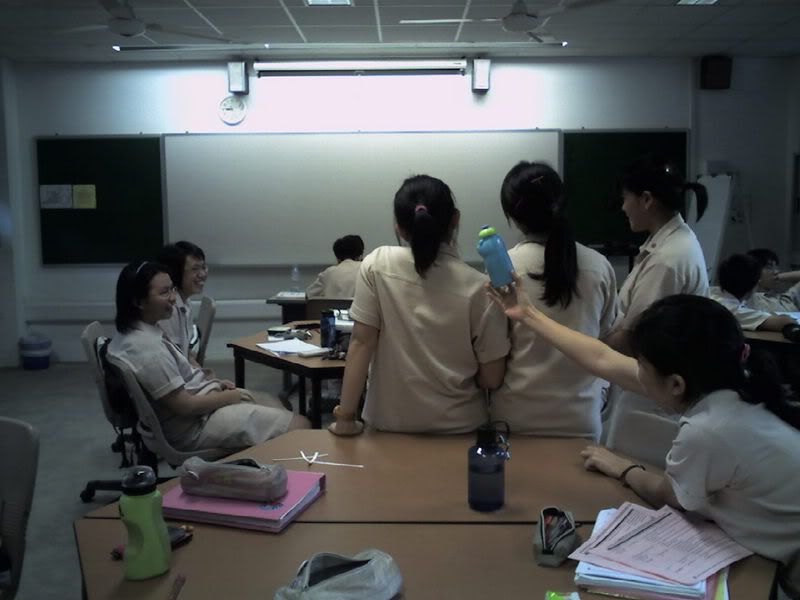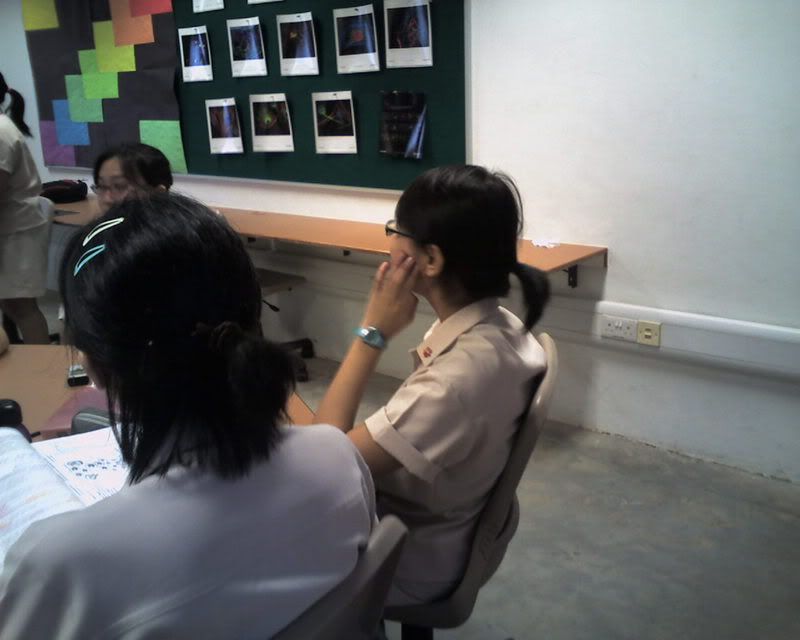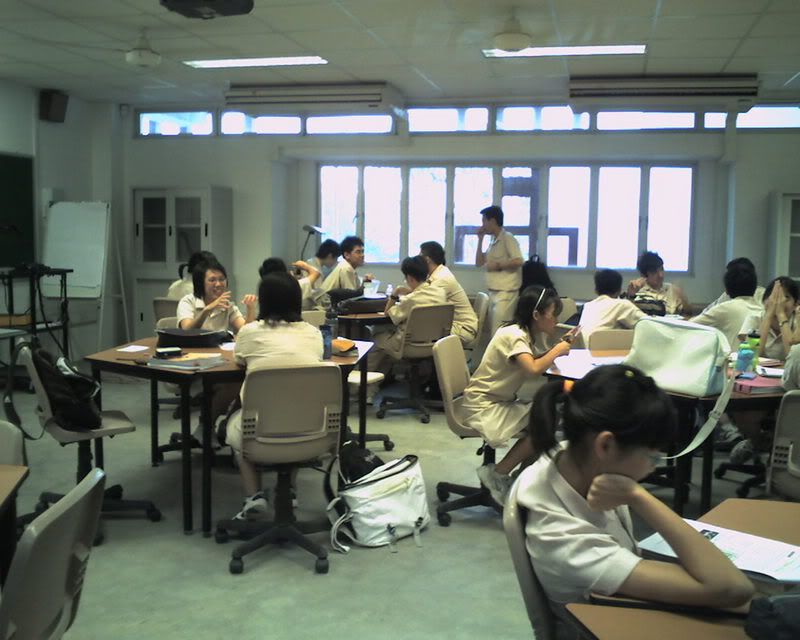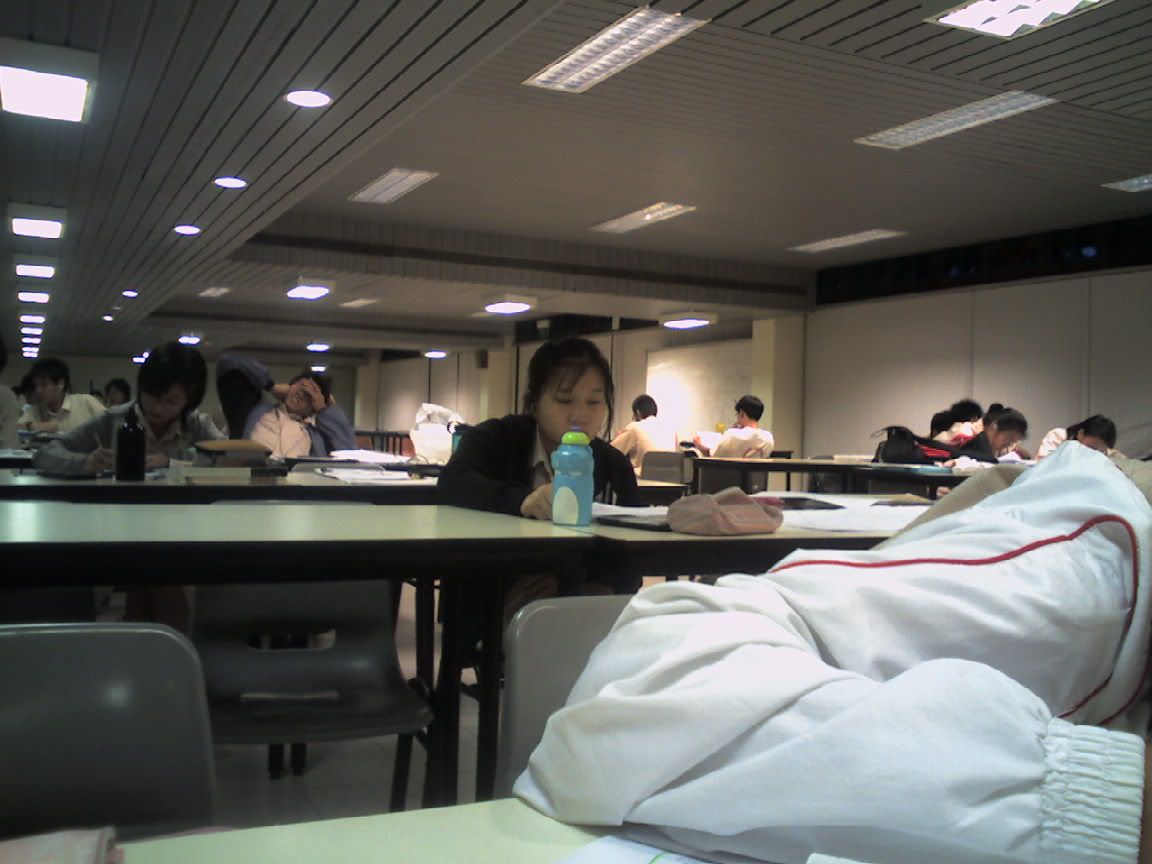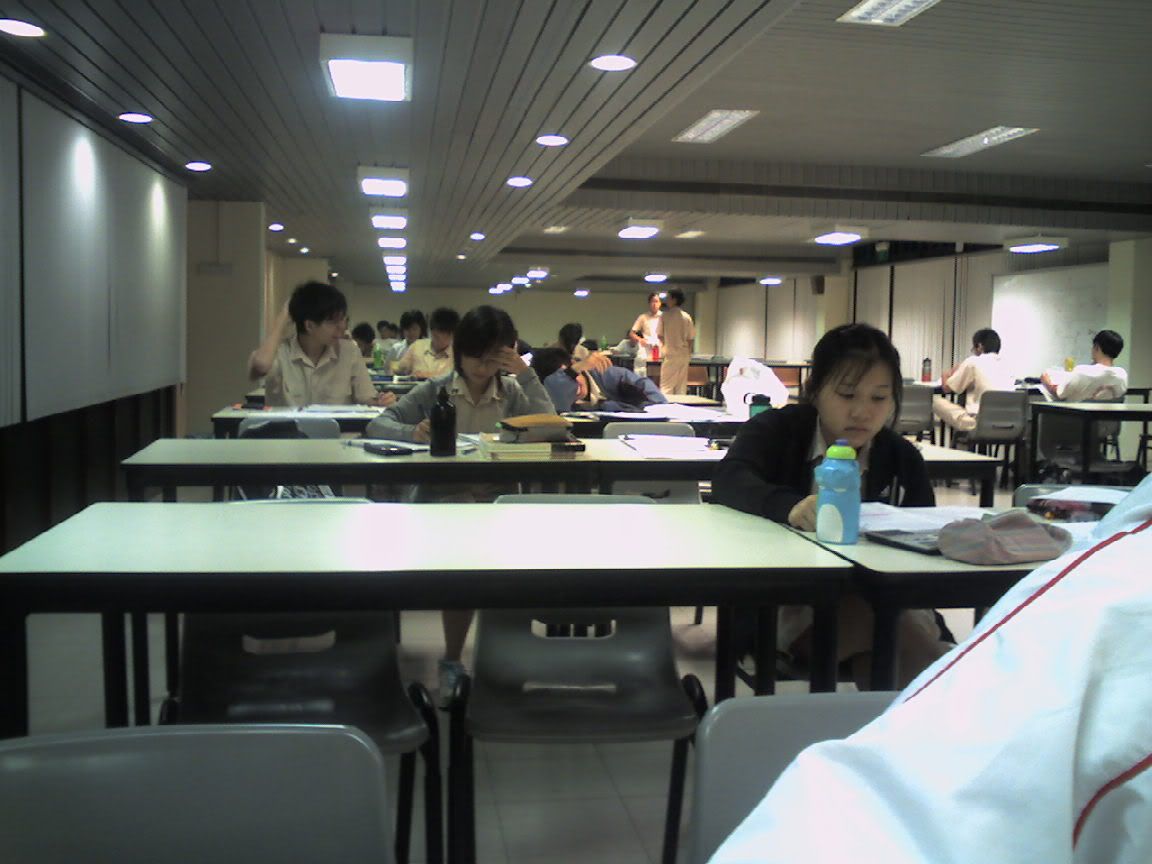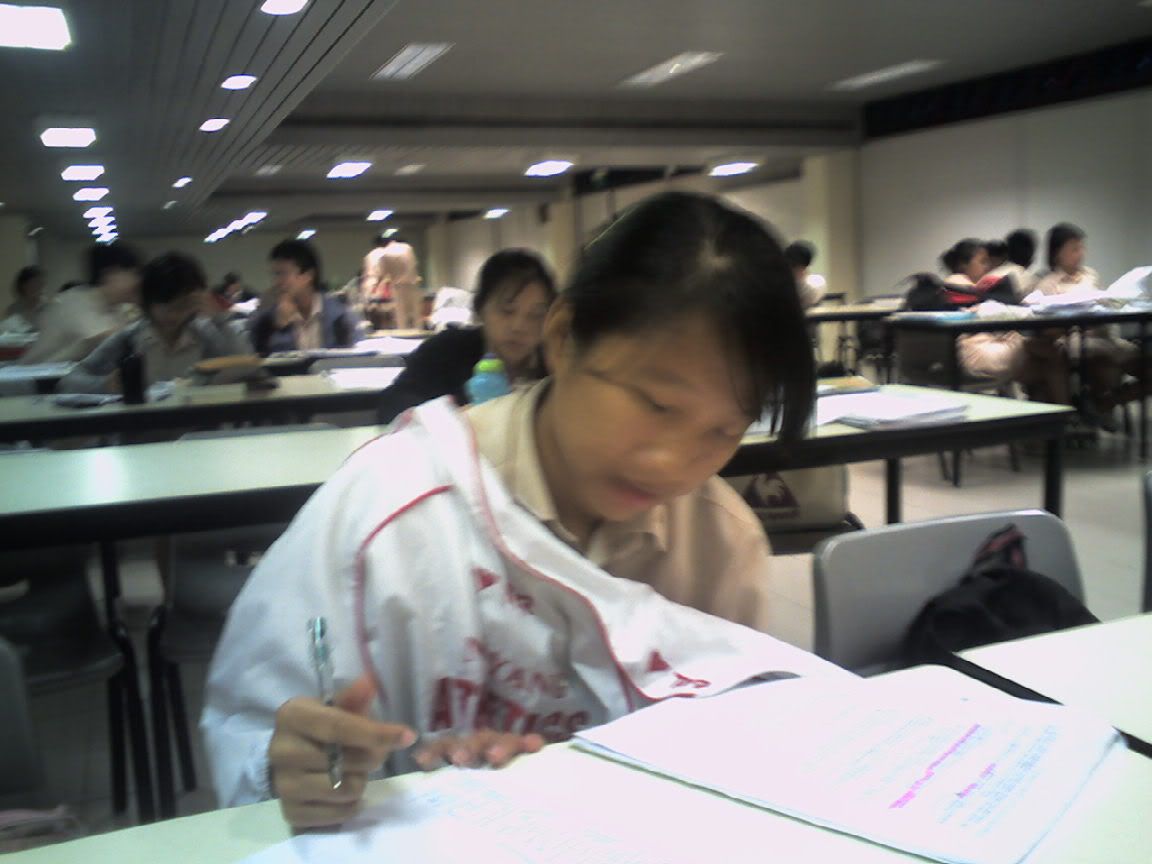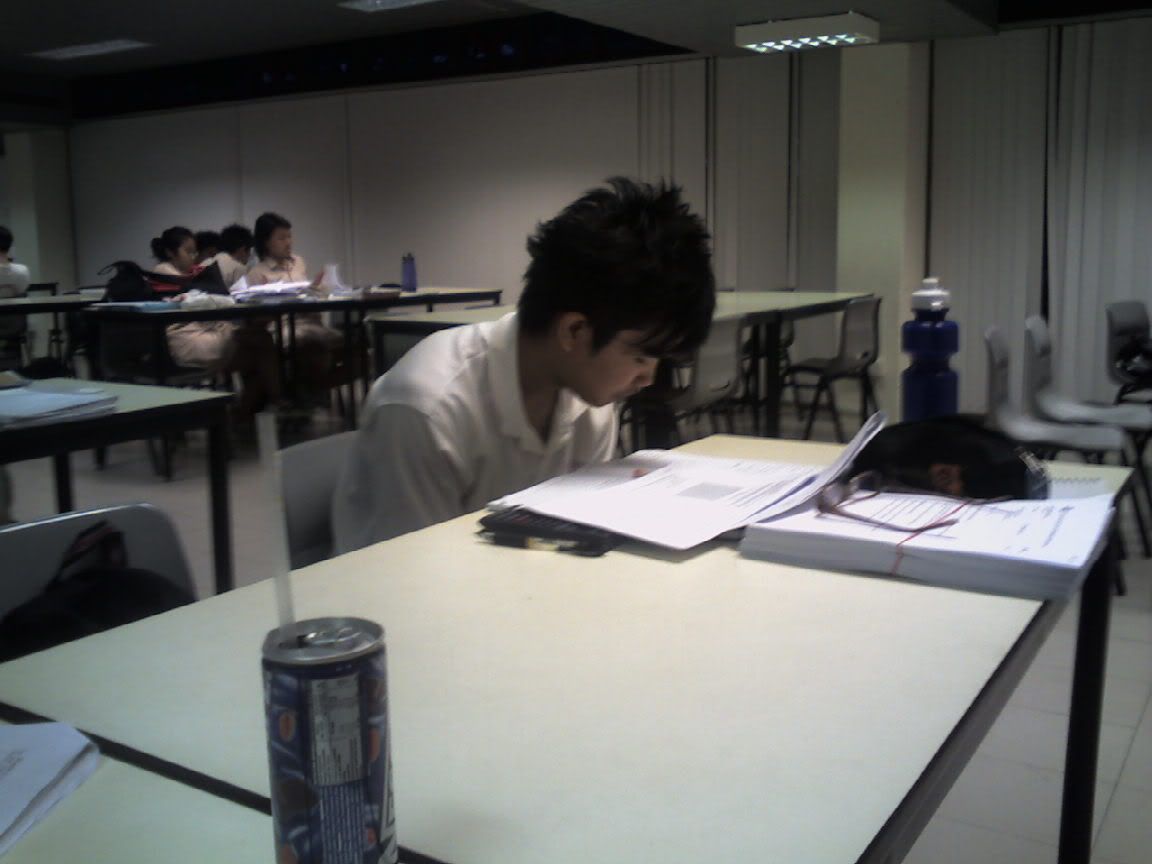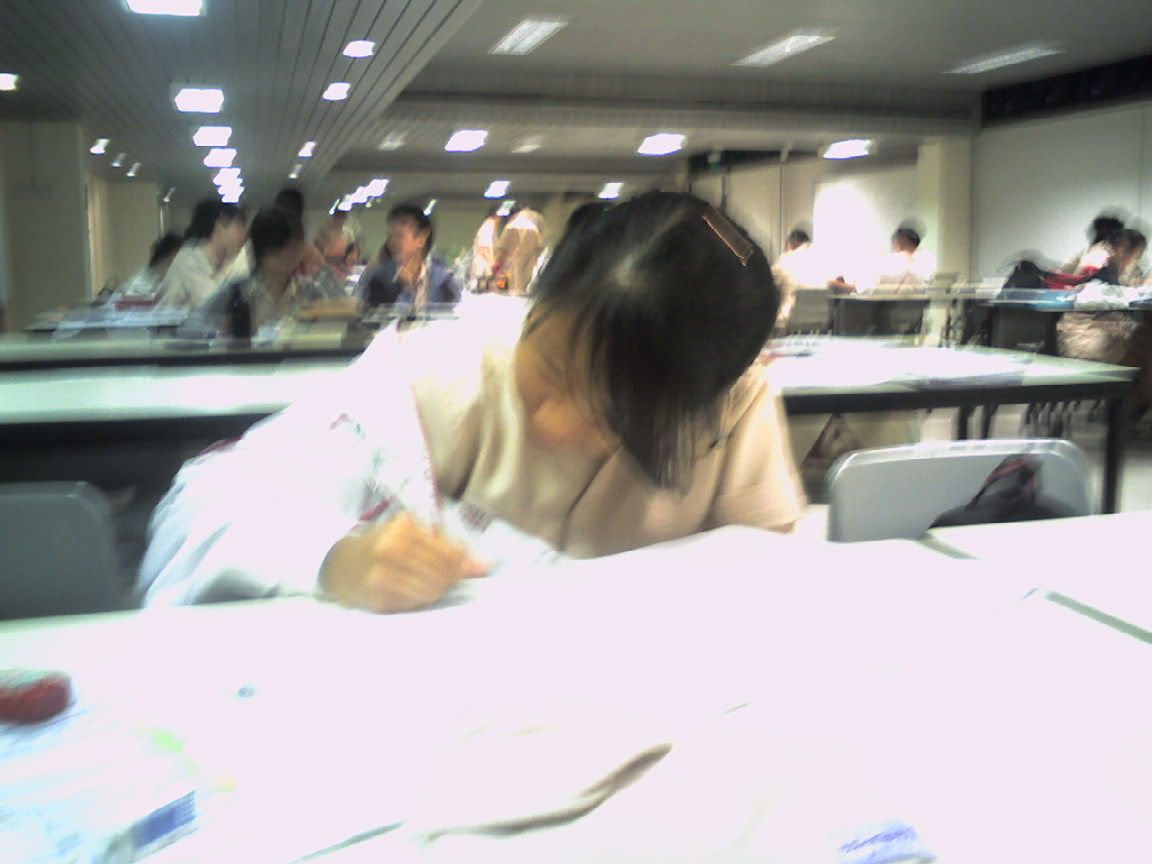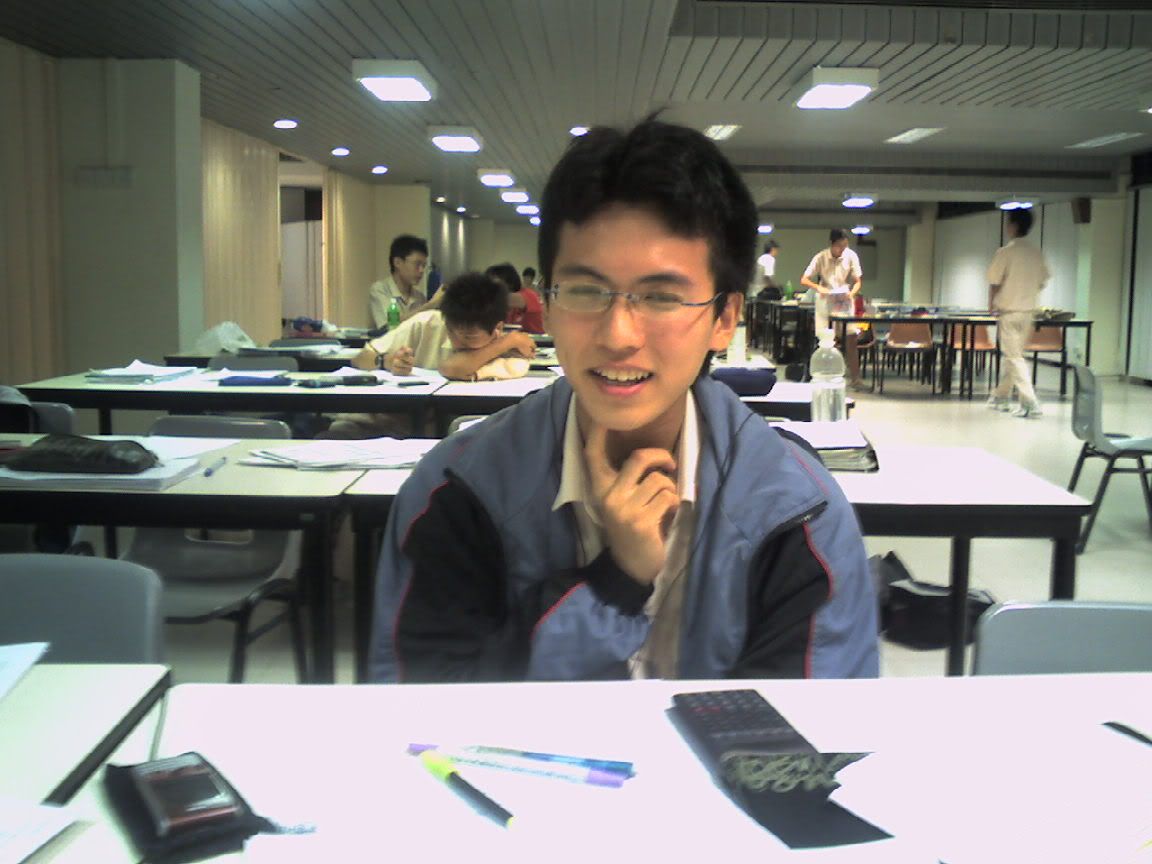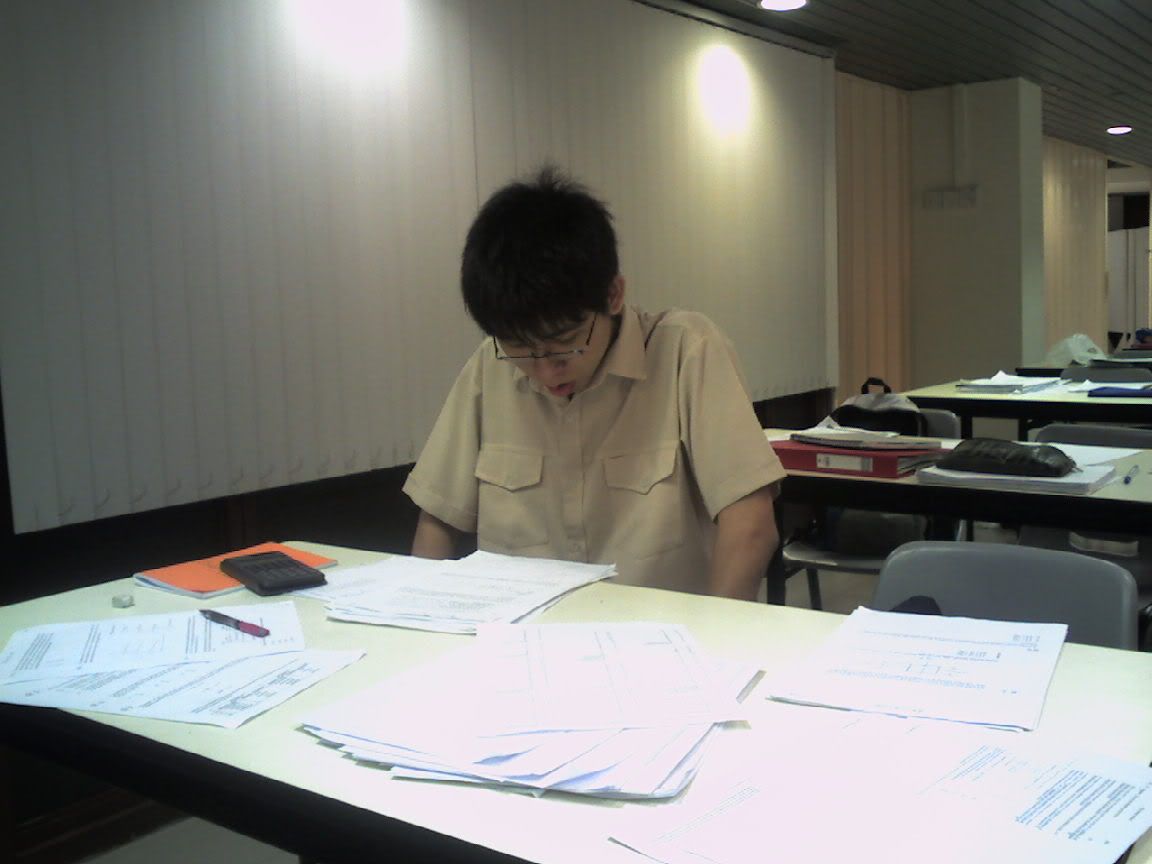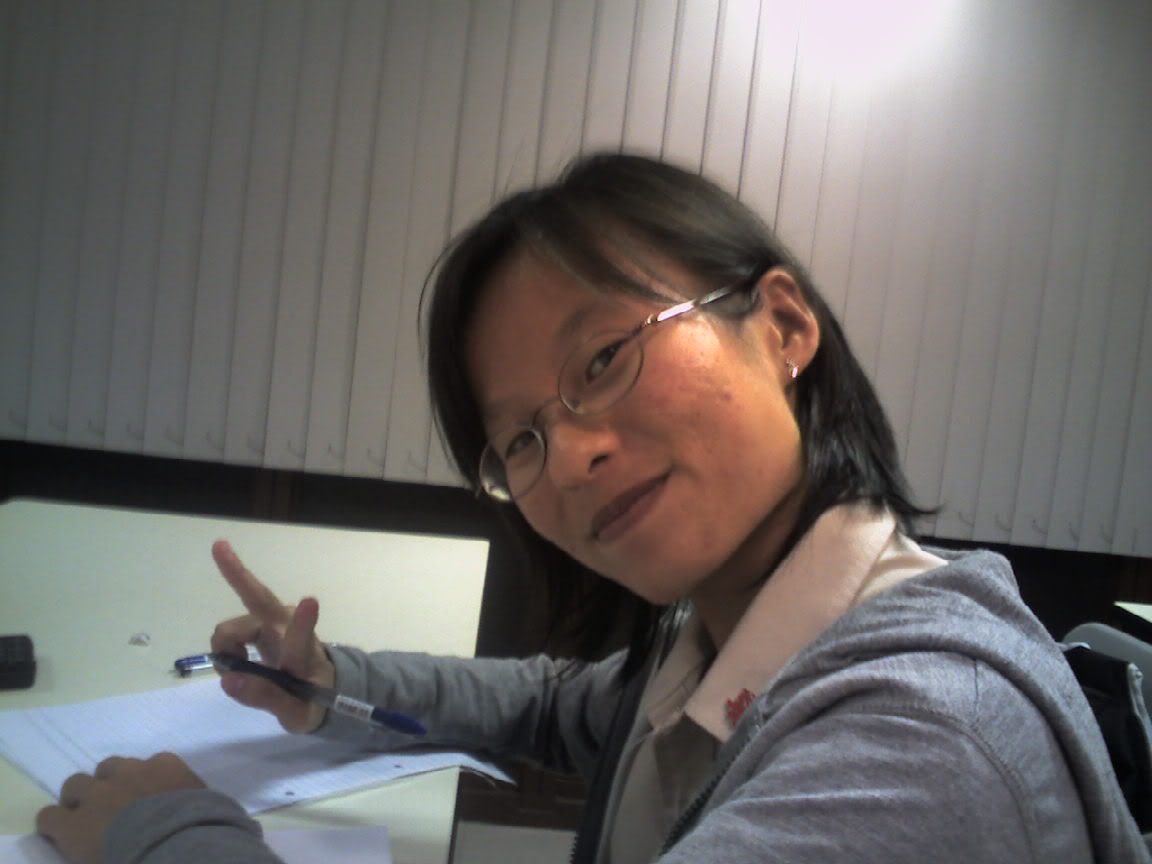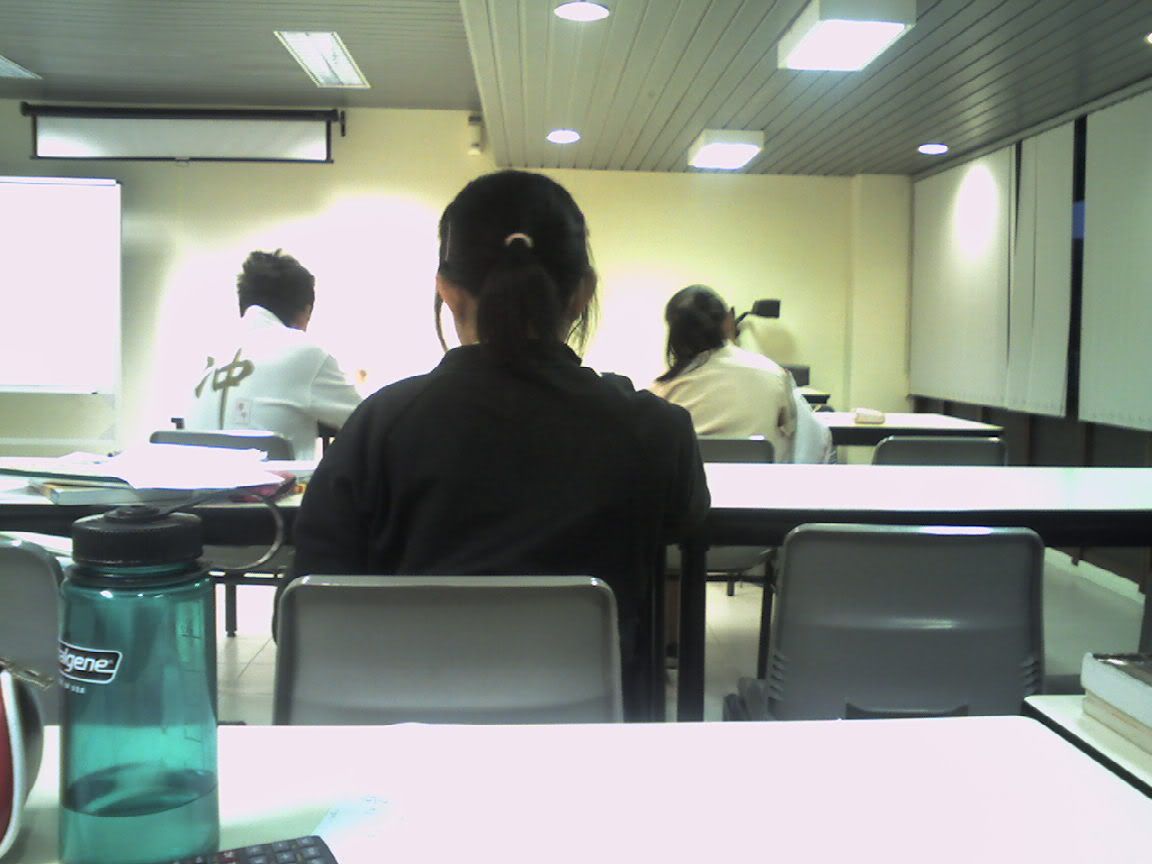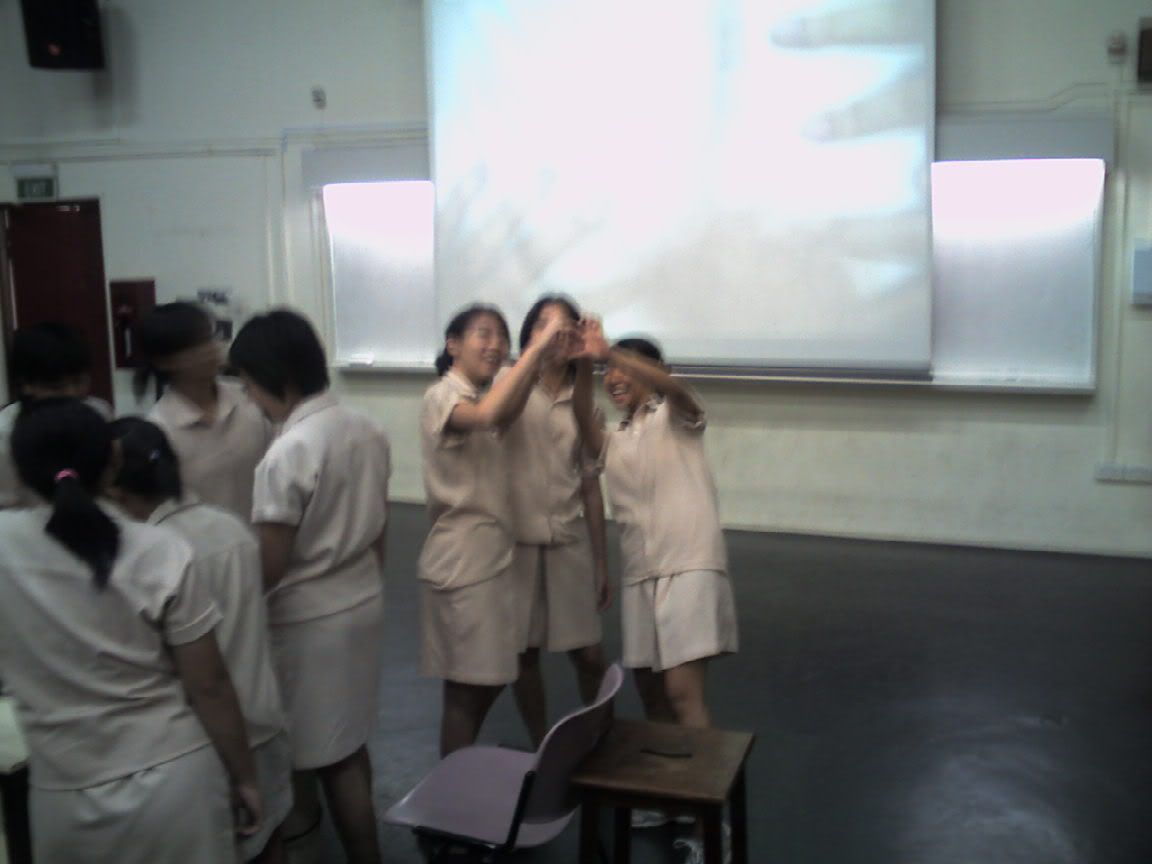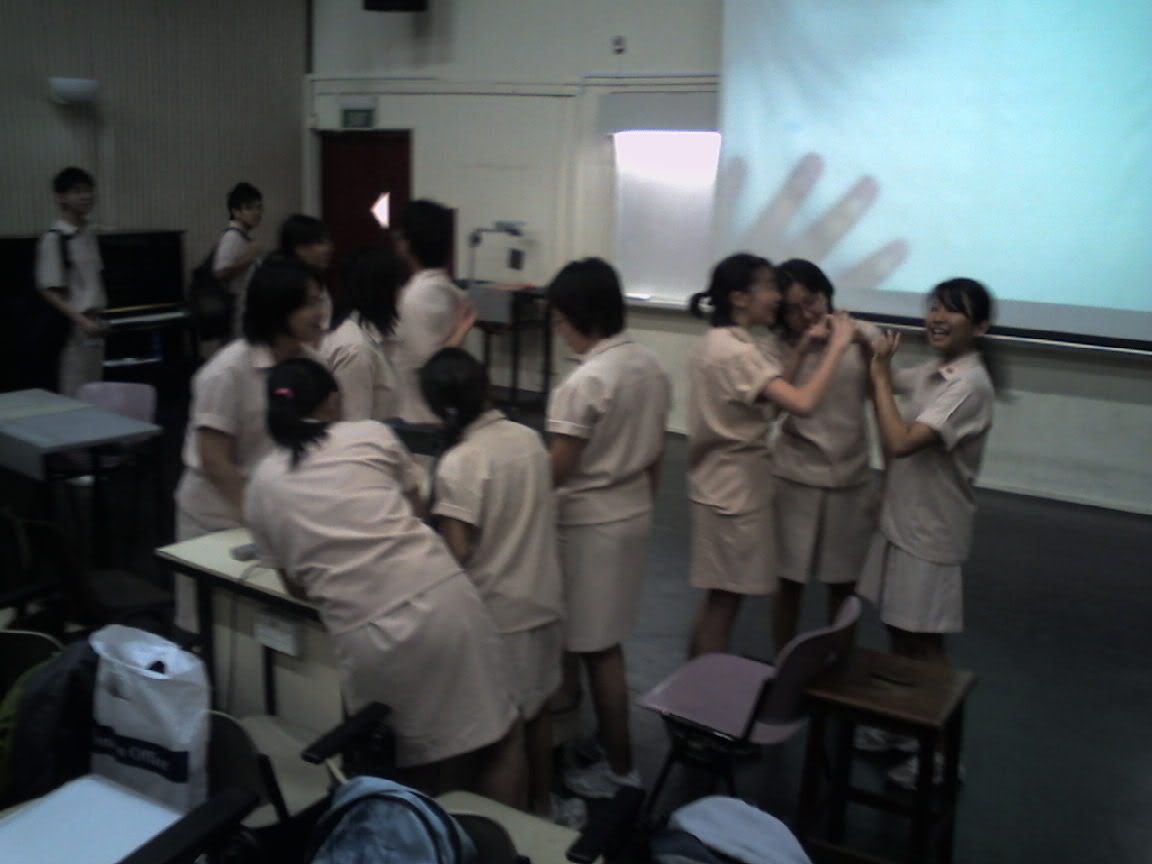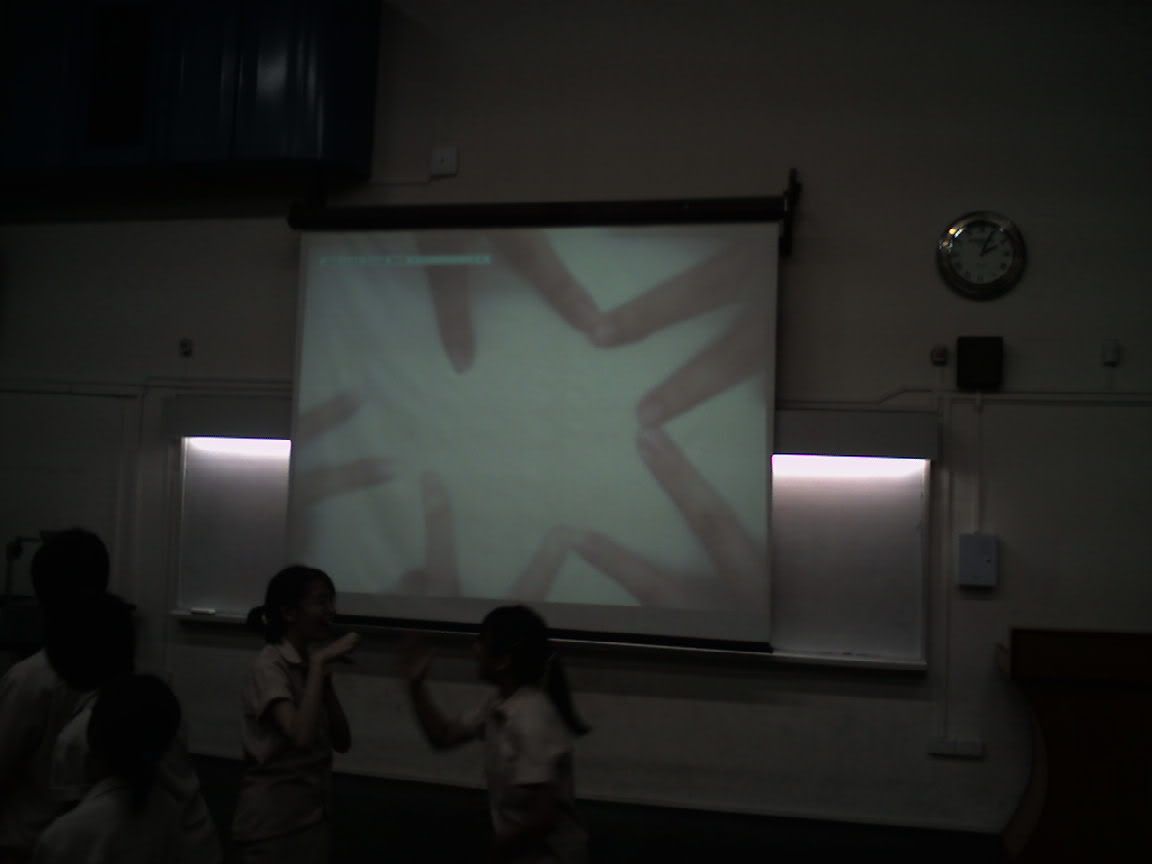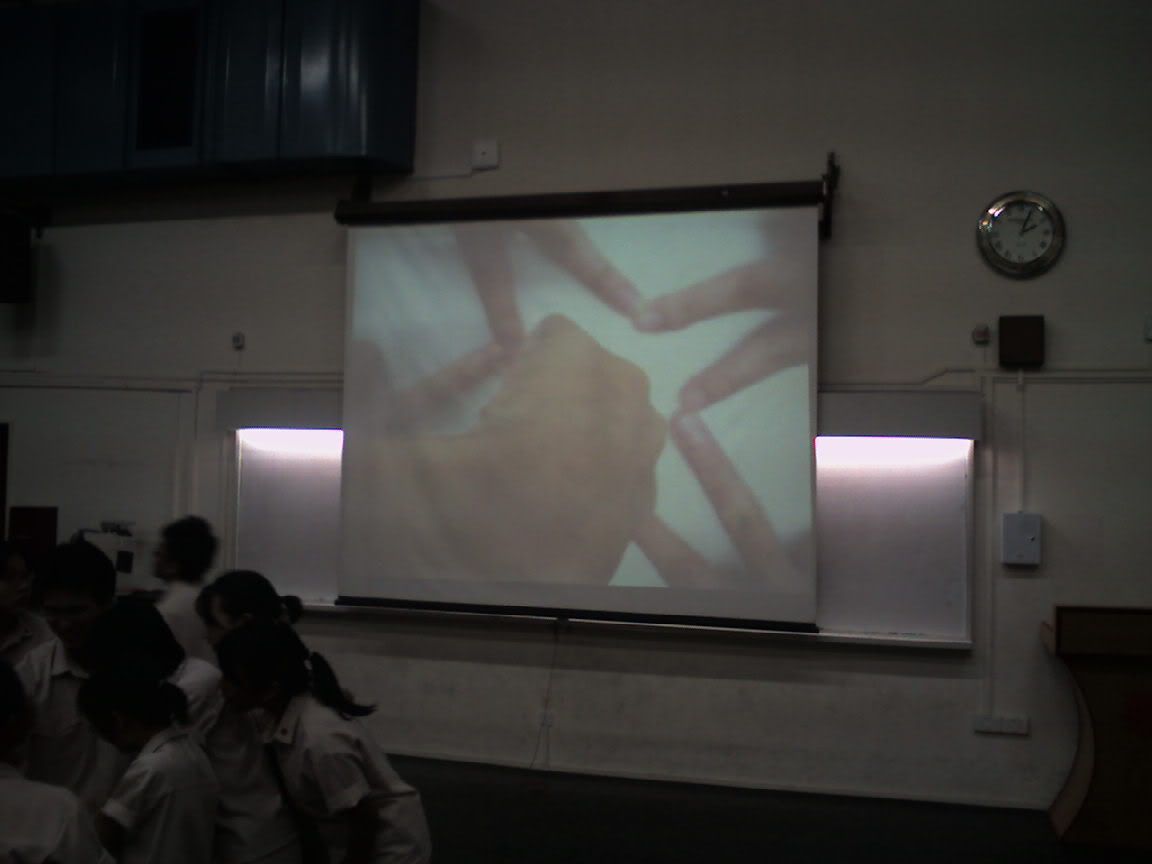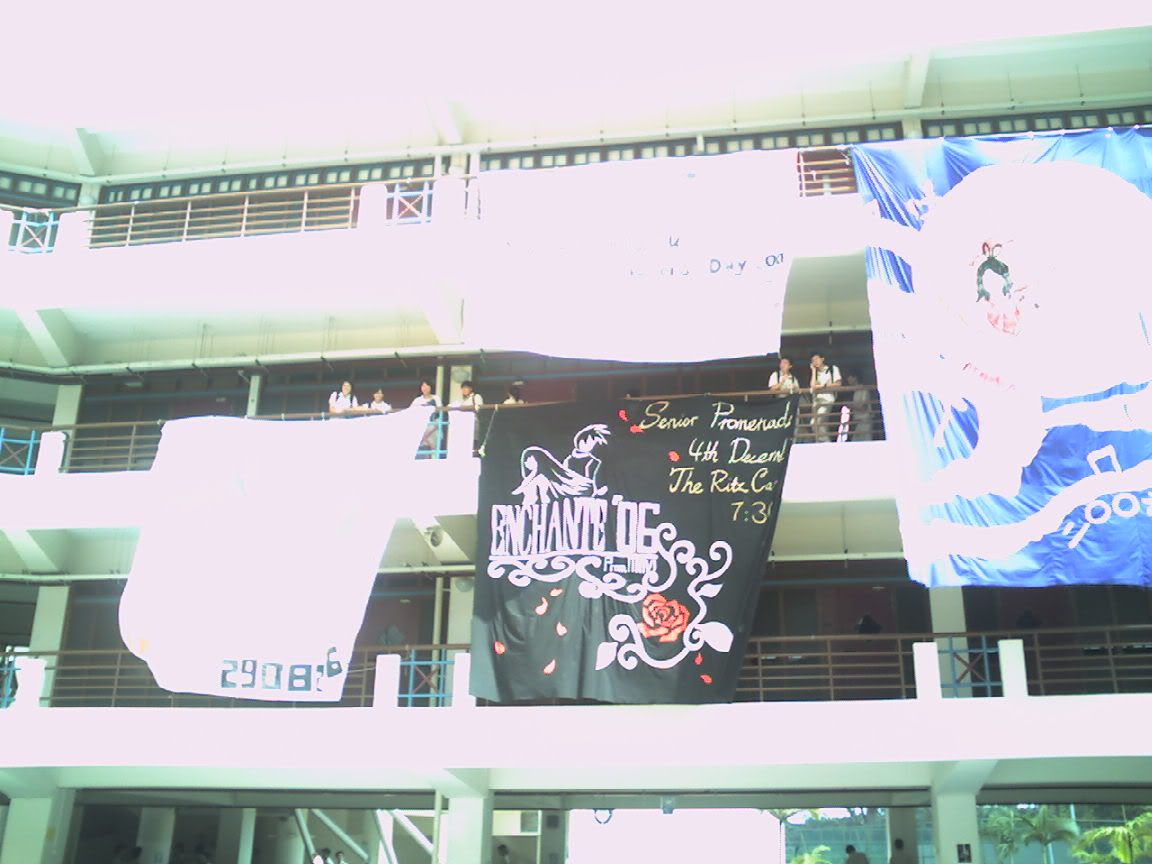 SPOT THE PEOPLE!
ENJOY... haha..
Labels: photos
Saturday, October 14, 2006
will miss 75 [:
was just looking at the class page sam did.
looking back.. i'll really miss 05s75.. no matter how much i feel anti-class at times.. whether or not i've really contributed to the class.. i'm really glad and thankful that i'm in this class and not some other shitty class which is either uber sian or have too much fun. i think there's balance in this class.. mug hard and play hard. that's what Mrs Lim thinks of us too :D
i think the class you're in is super important (PUT 100 ASTERISKS here HAHA).. they are the people who make your life in school really meaningful.
it's like even if you're super close to your cca mates it doesn't really help, at least i don't see how it does.. people stick to their class after graduation and rarely with cca mates unless they're going back for events related to their cca.. i think it's just a generalization but anyway i still think the class plays a huge role. :D
[okay i figured this is not really true -.-]
and our class is very lucky cos we got all the good tutors (: like Mrs Chin said when she saw us making the teachers' day gifts, "lucky students, lucky tutors".
the "most ideal before 2.4 runs" under the milo pic on the class page made me laugh. admittedly we don't seem to be very united or close to each other, don't seem to have as much fun as other people when we're together, and there are always people who are guai lan and be anti-social (ahems. like me.) guys and girls in our class seem to be quite segregated. but it's still a great class. if i could choose i wouldn't choose any other class. cos i don't think i'll be happy in any other. i guess it's probably not fair for me to say this cos i've obviously not been with any other people but honestly really, i'm happy enough. (:
so thank you everyone from this great great class. thanks for making my life in hwachong so much more memorable. this crazy bunch of people who would get high with me during whatever school events or even just being enthu about class outings. and for squeezing into neoprint machines trying to break our 18-men-in-a-machine record. thanks for being so accepting of such a flawed person like me and for being tolerant of all my mood swings and noise+crap in class. lol. thank you, the other photo whores like me.. hahaha right -.- hmm. thanks for making this journey special.
you people are one of the reasons why i never regretted coming to hwachong although i never intended to.
although we're all going separate ways and everything's going to change, i don't want to think that this is the end.. don't want to ever not look back again.. hope that somehow we can still meet up often, stay in touch.. and invite each other to our weddings next time :D lol. ahhh. i'll miss 75 even if i don't miss school.
meanwhile.. everyone work and study hard [: we'll get there. all the best for A Levels and stay healthy!
Labels: emo
Saturday, October 07, 2006
最近比较烦
jon =)
Labels: video
Friday, October 06, 2006
=)
ehh wanted to blog before 12..but came out of bath and totally forgot..so i am only blogging this now..at this kinda time=x (1 am) haha..kk wana thank all who shared my present..lol cos my sms run short so make use of kls blog=)))) and i noe all will visit the kls blog:)hehe..
YAHTING, WEELOON, HUIYI, YAOZHEN, KAILING, HUILI, RUOWEI, KARIN, EMILY, KEGAN
in no order of ranking of course:)
yupp i love the wallet cos it's the taste of yours truly:) lala..
k shall sleep..
-you know who:)
Labels: birthday
Thursday, October 05, 2006
coffee
A group of alumni, highly established in their careers, got together to visit their old university Professor. Conversation soon turned into complaints about stress in work and life.
Offering his guests coffee, the Prof went to the kitchen and returned with a large pot of coffee and an assortment of cups: porcelain, plastic, glass, some plain-looking and some expensive and exquisite, telling them to help themselves to hot coffee.
When all the students had a cup of coffee in hand, the lecturer said "If you noticed, all the nice-looking, expensive cups were taken up, leaving behind the plain and cheap ones. While it is but normal for you to want only the best for yourselves, that is the source of your problems and stress. What all of you really wanted was coffee, not the cup, but you consciously went for the better cups and are eyeing each other's cups."
"Now, if Life is coffee, then the jobs, money and position in society are the cups. They are just tools to hold and contain life, but the quality of life doesn't change. Sometimes, by concentrating only on the cup, we fail to enjoy the coffee in it."
So friends, don't let the cups drive you... enjoy the coffee instead.
Labels: food-for-thought
Wednesday, October 04, 2006
Matter-s
Hallo... Firstly, pls note that our dearest
Principal Address
will be on this coming
Monday (9-Oct), 8.00am to 9.30am
instead of on Friday. The
Special CT session
on
13 Oct
will also be moved to an earlier slot,
8-9.30am
(Venue:E204).
Secondly... Collection matters...
1.
CCA certs, CIP certs to Mr. K
- you can follow Mr. K's instructions in the previous entries... if not... (
Mr. K stares...)
2.
signed form
for notice about official last day of sch
(hmmmz...)
to me on
Thu (tmr)
3.
form for the collection of certs
in
self-addressed envelope
with
local stamp affixed
to me on
Thu (tmr)
- follow the instructions in the "note" at the bottom of the form
- I believe you can seal the envelope too
4.
$10 / $6 of class fund
to Mr. TY by Friday?
That's not all!
Do keep taking good care of yourselves and stay happy! See you guys at MAF (n at sch)!
Labels: announcements
Tuesday, October 03, 2006
JC
Yoohoo. Now here are your CIP records. Kindly do not confuse the instructions for these two different records since I've tried not to give you both of them together today.
1) You are to check the CIP hours for 2005/2006 activities, sign on the class to indicate you have checked, write down your home number, HP number and tick at the last column if there are ammendments. (To be circulated on Thursday)
2) If there are errors/ammendments, pls do the following directly on your cert:
[ALL AMENDMENTS ARE TO BE MADE IN RED OTHERWISE RENDERED INVALID]
(A) Wrong CIP hours
: Indicate the correct no. of hours on the record. If you have the letter of evidence, attach a photocopied version to the record
(B) Missing activity
: Check if the activity is found in the list of Activities on
EMB/IVLE
(use 'FIND' function) If present, indicate serial number, name of activity and no. of hours you have contributed.
E.g. Activity #3 Befriending (Interact Club) JC1 AH/BSS Service, 3 hours

(C) Duplication/ Spelling Error
: Amend in Red
(D) No cert
: You have 0 CIP hours.
(Awww...)
Please arrange and submit all relevant documents for CIP to me by
2pm, 4th Oct, Thursday
.
If you have further queries, please see Miss Lim Siew Hui (Math) or Angel Yang.
This a serious reminder regarding your
CCA records
PLEASE REMEMBER TO PUNCH HOLES FOR ANY EXTRA DOCUMENTS/CERTS THAT YOU WILL BE SUBMITTING AS THEY WILL BE FILED.
Last but not least, here's to encourage all of you to turn up for MAF this sat at 6.30pm to unwind. The month away has just begun; all the bestest!
Chey, nobody got the milo. Haha self entertaining. Give me the word.
:[
Labels: announcements
Monday, October 02, 2006
Anti Matter
Yoohoo your CCA records are with me.
Troublesome, troublesome... so read CAREFULLY.
1) Please download (from IVLE or SMB I presume) form template for ammendments or get a copy from me, get teachers-in-charge signature where required and attach to your CCA record and submit it back to me by
11th October, Wed, 12 noon even if you do not have changes
.
2) Note that involvements are to be separated according to year.
3) Amendments are to be in the form of a) additions b) deletions/repeat entries and c) typo errors/wrong involvement names.
4) Uniformed group members are to submit a separate involvement records from your alma mater, endorsed by the teacher in charge of your almamater ( please include contact number and email address of your teacher)
5)
Sign against your name on your CCA record
before handing it back up to me to verify you have received, checked and attached your ammendments to your record
6) Involvement codes
P-S
Participation in intra college sports event
P-NS
Participation in intra college non-sports event
PP
Public performance
E
Organised Enrichment Activity
A1 - A4
Applies only to interschool or higher level competition. State undividual/team/specific category if applicable (Achieved 1st position: A1, achieved second postion: A2 etc)
G, S, B
Gold, Silver, Bronze
OP
Outstanding Performance (or other achievement descriptors e.g. Merit, Distinction, Commendation, Honourable Mention) State specifically the award you have received and attach photocopy of cert)
R-C
Represented college in inter school competition
R-S
Represented state in competition
R-CN
Represented college in non-competition based events e.g. Paliamentary dialogue
R-SN
Represented state in non-competition event
L-G
Generic leadership position: Chairman/Capt, Vice, Sect, Treasurer, QM
L-S
Specialised leadership positron: Student Conductor, Section leader, leadership committees for adhoc projects
External Events
Representing government or state recognised organisations e.g. NYC, NAC, SYO (state the event and the involvement codes to be keyed in and attach evidence of involvement)
7) For P-S and P-NS, achievements (positions) will not be keyed in.
8) For E and External Events, pls approach teacher in charge of event to submit an email of your involvement preferably as a list of all students involved
Win a packet of milo from me!
:[
Labels: announcements